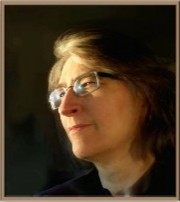 Connie is a native Clevelander, daughter of an Interior Design father and professional photographer - artist mother, and granddaughter of a principal architect. Creativity is in her blood. She is willing to try her hand at all kinds of new works and loves the large scale of production. Theatre provides opportunities to investigate, explore and innovate in her designs and artwork. She would like to continue to explore how to use her craft in the world of theatre, film, TV and events.
She entered the world of theatre design after a first career in commercial and residential interior design in the Cleveland area as well as a short stint in Helsinki Finland. That was followed by several years educating 5 children and striving to meet individual educational needs. This made her very alert to the needs of the students to whom she has taught theatre at both the University and High School levels. Connie's award-winning graduate work was at Kent State University.
Since earning her MFA in theatre in the spring of 2012, Connie has worked designing shows in the greater Cleveland area, and has painted and made props with many local stage productions. Complete CV here.
Please enjoy her website, which Connie will keep up to date with her latest works. Contact Connie to discuss her portfolio in greater detail and explore how her creativity can meet your production or educational needs.
2.2014